Theguardian
• Tufa finishes 18 seconds ahead of Kenya's Mary Keitany
•
Sonia Samuels is first British runner to finish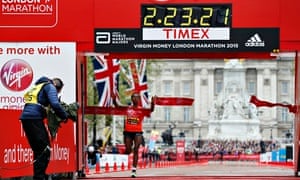 In a relatively slow race – her time was more than eight minutes slower than Paula Radcliffe's world record set in 2003 – Tufa finished a comfortable 18 seconds clear of Kenya's two-time winner, Mary Keitany. Tufa's compatriot Tirfi Tsegaye finished third.
Sonia Samuels was the leading British runner in 16th place, with a time of 2:31:45; well under the qualifying time for the Rio Olympics.
In her final marathon, Paula Radcliffe ran a strong first half, reaching the 30km mark in 1:50:22.