This post was written by PEN America's Freedom to Write Fellow Deji Olukotun.
Six Ethiopian bloggers were formally charged with terrorism in Ethiopia's Lideta High Court last week, a move provoking deep concern for hackers and human rights activists in Ethiopia and around the world. Three journalists were also charged and a seventh blogger, Soleyana Gebremicheal, was charged in absentia.
The seven members of the Zone 9 blogger collective, who sprung to international attention upon their arrest last April, stand accused of associating with outlawed political groups and of attending a digital security training, among other charges. The criminalization of digital security training generates particular alarm among human rights activists, including PEN, who often promote these trainings for bloggers in repressive societies as a preventative measure against exactly the kind government spying and twisting of information that can lead to bogus charges like associating with outlawed groups. The bloggers maintain that they were openly critical of the outlawed groups and not, in fact, allied with them in any way.
"It is terrible that all of the articles we have written for two consecutive years have been brought to court as 'evidence' to support the terrorism charges. It is insane," said Endalkachew Michael, a Zone 9 blogger currently living in exile.
Thinking and reflecting on the realities of the country is literally impossible in Ethiopia today. I have seen the charge sheet and they brought the laptops of the bloggers as evidence against them, including attending a training on encryption tools. The government has also accused us of associating with two ideologically hostile opposition groups which are outlawed. The paradox is that we have been very critical of these outlawed political parties.
The name "Zone 9" is derived from a section of Kality Prison in Addis Ababa where journalists are held, called Zone 8. According to the bloggers, Zone 9 represents the invisible prison that surrounds all the citizens of Ethiopia, who may be arrested at any time for speaking out. Their motto is simple: "We Blog Because We Care." Those who can continue to blog in the face of government harassment, threats, surveillance and intimidation to fill the silence created by the government's ongoing crackdowns on free speech and dissent.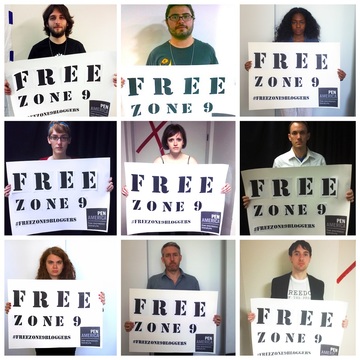 Ethiopia is among the greatest violators of the right to free expression, operating one of the most sophisticated Internet monitoring and filtering systems in the world with near total impunity. JournalistsEskinder Nega, winner of the 2012 PEN / Barbara Goldsmith Freedom to Write Award, and Reeyot Alemu continue to suffer in prison on lengthy sentences for exercising their right to free expression.
Hackers from the HOPE X convention in New York City posed in support of the Zone 9 bloggers and free expression.