The Ethiopian lawyer spoke with DW about the importance of education and supporting the disability community in Africa and around the world. The award honors those who have found practical solutions to global problems. 
Right Livelihood Award winner Yetnebersh Nigussie speaks to DW
DW: You lost your eyesight when you were 5 years old. Some people in your family considered it to be a curse, but today you say the loss of your eyesight was an opportunity. Why?
Yetnebersh Nigussie: Many people in Ethiopia think that someone's disability is due to a curse because of a fault that their family has committed. I say that my blindness was an opportunity, because not many people in my village had the chance to get an education. Because I was blind, I was not considered suitable for an early marriage, which is a common practice in our village. All of my friends got married when they were 10, 11 or 12. I was the only exception. Education liberated me, and allowed me to become who I am today.
According to the World Health Organization (WHO), you are one out of more than a billion people who are living with a disability. For many years you have advocated for the rights of people with disabilities. Which achievement are you most proud of?
Every little milestone is a big achievement, but I can highlight some in my life. The first is my education. The second is my decision to study law, because law was considered to be a men's subject in Ethiopia. I am among the first three blind women who went to law school.
The next one is the establishment of the Center for Students with Disabilities in the Addis Ababa University, because there was no institution responsible for them beforehand. Now nearly all universities in Ethiopia have a similar organization.
I also established the Ethiopian Center for Disability and Development (ECDD) in collaboration with other Ethiopians and a very nice American working for the International Labour Organization (ILO). With the establishment of the ECDD we succeeded in getting disability included in the development discourse, and it is now a major organization. Last but not least is my family — I'm now married to a nice man and have two lovely daughters.
Nigussie considered her blindness to be an opportunity as it allowed her to continue her education and raise a family when she was ready
You have personally been a trailblazer for women with disabilities in Ethiopia and Africa. Globally, we have also seen some progress for people with disabilities. The Convention on the Rights of Persons with Disabilities (CRPD) was adopted by the United Nations General Assembly in 2006. Since then, it has been ratified by more than 170 nations worldwide and more than 40 in Africa. How do you think these legal rights will be implemented, particularly in Africa?
It's important to recognize that there has been significant progress both internationally and regionally. Africa as a continent has now developed its own protocol on the rights of persons with disabilities, which is nearly ready for adoption and implementation by the African Union heads of state. And I'm proud to say that I was part of the development of this protocol. The issue is that, despite this law being in place, there is a huge gap in implementing these laws. These rights have not yet been turned into realities.
The main reason is that there are no litigations going on in many places. People agree in principle that persons with disabilities have the right to an education, but there are no legal mechanisms to make sure that people who violate this are held accountable. So it's a matter of making people with disabilities aware, so that they can hold their governments accountable. There are already promising examples in Africa which we can learn from, but there is a long way to go.
It is difficult for men with disabilities to find work and earn an income. But the risk of poverty is even greater for disabled women. You personally have supported disabled women in Ethiopia to give up begging and to lead productive lives. What needs to be done more broadly to improve the situation of women with disabilities across Africa?
I think there is a need for a paradigm shift. When we talk about people with disabilities, the topic mostly focuses on what they can't do. I would advise policymakers to focus on what they can do. We have one disability and 99 abilities. I think it's wrong to focus on the one disability.
Women with disabilities overcome a number of challenges in their lives. Their experience in overcoming challenges is not a 1500-meter or 10,000-meter run. It's a lifetime run. So I think it's critical for people to try and shift their attitudes: not to focus on the needs, but on the assets and the opportunities that those women can bring.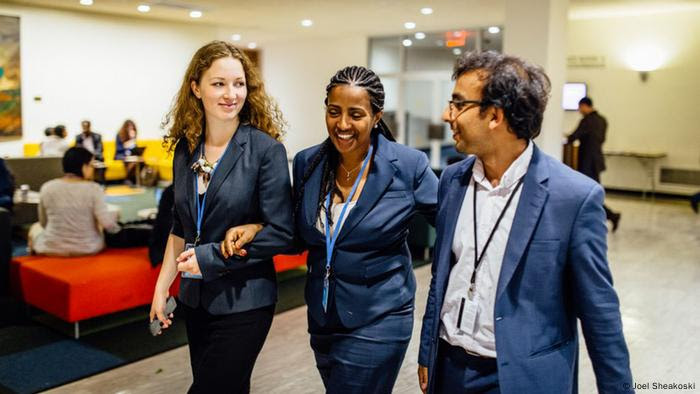 Nigussie (center) has worked with more than 20 different organizations fighting for disability rights
Over the years you have won numerous awards.The Right Livelihood Award is perhaps the biggest of them. What does it mean to you?
I never dreamed that I would be this big. I know I have worked hard. But it's not me who deserves this award. The cause that I'm working for concerns more than 1 billion people, and it deserves this recognition. Achieving this at the age of 35 gives me a chance to contribute more. So I'm really humbled, honored, happy and proud, but I also feel that I'm responsible for the recognition that the world has given me. I am responsible for tackling bigger challenges. It's both a recognition and a responsibility to work more.
You have volunteered for more than 20 organizations with different agendas. You have not only advocated for the rights of people with disabilities, but also been active in the anti-AIDS movement and in promoting girls' education. You have become a mother of two daughters. What's next for you?
I believe that all the causes that I have supported have one common source, which is mindset. It's not my disability that has made people think I am "unable to do it." It's not my being a woman that has made people consider me lower than men. All of this comes from a person's mindset.
I think that the only medicine that can cure this world from deep inequality is education. The more people are educated, the more they are empowered and the more they recognize and celebrate diversity. And I feel responsible for making sure that the next generation inherits a just, fair and inclusive world.
Yetnebersh Nigussie is a lawyer and human rights activist from Ethiopia and a recipient of the 2017 Right Livelihood Award.
This interview was conducted by Aarni Kuoppamäki