Carving churches out of rock using only a hammer and chisel may seem extraordinary to us, but for those living in rural areas of Ethiopia, it's simply an expression of faith.
"It's hard work … literally," says University of Toronto Professor Michael Gervers, an expert on Ethiopian history.
Gervers, a professor in the department of historical and cultural studies at U of T Scarborough, 
received a grant in 2015 from the Arcadia Fund to preserve digitally
the knowledge and technique of how Ethiopia's rock-cut churches are made. Since then, he's travelled to Ethiopia three times and uncovered 20 modern churches across the country.
His work has attracted the attention of descendants of Ethiopian royalty. Last week, Prince Ermias Sahle-Selassie Haile-Selassie, the grandson of the country's last ruling emperor, awarded Gervers the Grand Cross of the Order of the Star of Ethiopia in recognition of his research.
"I was impressed by his passion and love for the country," Haile-Selassie says. "It exposes the richness of Ethiopia's culture and traditions, especially in its Christian form, to the world."
There are hundreds of rock-cut churches scattered throughout Ethiopia, some dating as far back as the 12th century, with a few containing the finest examples of monumental stonework found anywhere in the world. The Church of St. George in Lalibela is one such example. As a world heritage site, it has long been heralded as a national treasure, but many thought the practice of carving churches from rock had all but disappeared 500 years ago. Even scholars of Ethiopian culture didn't seem to know it was still taking place in remote areas of the country.
"Scholars and government officials didn't seem to know it was happening. Even some church officials seemed surprised it was taking place," says Gervers.
Since most of the modern rock-cut churches are being made in rural areas, the only way to find out more is to visit them. Often this involves travelling from village to village, and, once there, asking the craftsmen if they know of others that are being built, notes Gervers.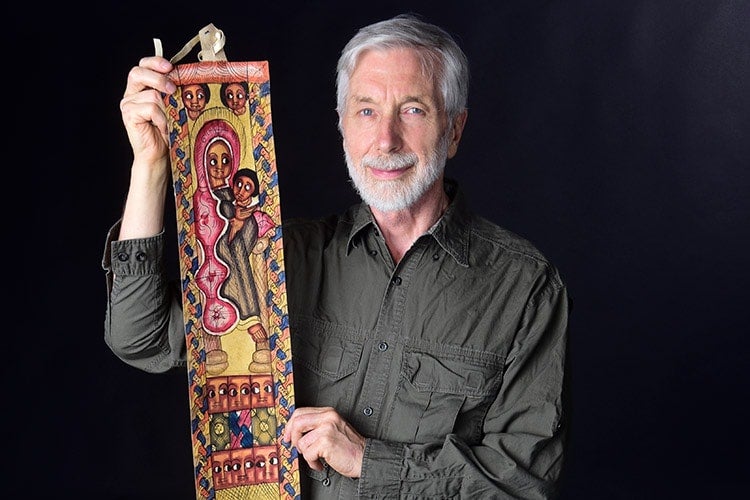 Professor Michael Gervers explores rock-cut churches in rural Ethiopia (photo by Ken Jones)
There's a very practical reason why churches are carved out of rock in Ethiopia: Sandstone is abundant, a legacy of the country once being entirely covered by the sea. Other building materials like wood, steel and concrete are expensive and hard to come by, especially in rural areas. If done properly, a rock-cut church can also last much longer than a church built of other materials.
"It's a very practical solution, especially since sandstone is relatively easy to carve compared to other types of stone," Gervers says.
 That's not to say carving a church out of sandstone is easy. A typical crew using only hammer and chisel will carve out 50 centimetres of rock on a good day. Carving a church 15 metres square by four metres high can take two years of non-stop work, but often progress is slowed by a lack of funds or workers.
What's even more remarkable is that most of the craftsmen involved have no formal training in carving churches. Many are local day labourers who work on roads or other buildings
What unites them all in building these churches is their faith. "Most of the time you come across a priest, a monk, or even a hermit who has decided that God has called him to carve a church and they start chiselling away," Gervers says.
The grant has covered three seasons of fieldwork in addition to video recordings and transcriptions of interviews with the craftsmen. The material, 
a portion of which is already online
, will be available for 20 years as part of the grant. 
Gervers also has an online database
 of Ethiopian art and culture that contains more than 65,000 images he's collected over decades of research.
As for what continues to motivate him most about his research, he says it's as much the physical as the intellectual challenges that come along with it.
"You don't go to one of these churches in Ethiopia without breaking a sweat," he says.
Most of the churches are carved into the side of hills or mountains. Gervers has even had to scale down a sheer cliff on a rope to access a church.
"It's a challenge, but I'm perfectly happy in that environment," he says. "Other than basic food and water, I don't crave much in life. What motivates me most is seeing this project through."