Jason Burke Africa correspondent
Abiy Ahmed commented on Addis Ababa blast that killed one and injured more than 100, saying 'killing others is a defeat'
Abiy Ahmed, Ethiopia's new prime minister, has vowed to continue his radical programme of reforms after more than 100 people were injured by an explosion at a rally in his support in Addis Ababa on Saturday.
The 41-year-old ex-soldier, who took office in April, had just finished speaking when what is thought to be a grenade was thrown at the stage in the capital's Meskel Square.
Footage showed the prime minister being rushed from the scene by security guards.
Abiy later described the explosion as a "well-orchestrated attack", but one that failed.
"A few Ethiopians were injured. There are a few people who lost their lives," he said in a televised address. "Love always wins. Killing others is a defeat. To those who tried to divide us, I want to tell you that you have not succeeded."
At least one person was killed and 153 people were injured, 10 critically, the health minister, Amir Aman said.
Seyoum Teshome, a member of the organising committee, said the attack had involved a grenade. "Someone tried to hurl it to the stage where the prime minister was," Teshome told Reuters.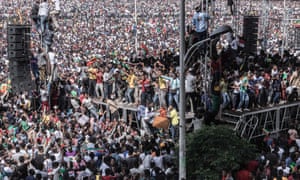 Tens of thousands had filled the square in the centre of the Ethiopian capital to hear Abiy, who was wearing a cowboy hat and T-shirt, speak.
Observers said the size of the crowd underlined the broad-based popular support for Africa's youngest national leader and the deep desire for change in the country of 100 million after decades of authoritarian rule.
Many supporters wore clothes displaying Abiy's image and carried signs saying "One Love, One Ethiopia".
Abiy, who was appointed prime minister following the unexpected resignation of his predecessor, Hailemariam Desalegn, in February, told the crowd change was coming and there was no turning back.
"For the past 100 years hate has done a great deal of damage to us," he said, stressing the need for more reforms.
Since taking power, Abiy has ordered the release of thousands of prisoners, opened state-owned companies to private investment and dramatically loosened restrictions on media.
Most recently, he stunned Ethiopians by saying he was prepared to fully implement an 18-year-old peace deal with Eritrea aimed at ending a two-year war between the country and its neighbour that reached a stalemate and had resulted into an expensive military buildup by both countries.
The move is one of a series that observers say could transform the region. Abiy has also said he will scrap trade barriers with Somalia and spoken of his desire for closer integration with Ethiopia's unstable and violent neighbour as part of a wider effort to create a single market in the Horn of Africa.
However, the reform programme has prompted resistance from certain groups and some Ethiopians near the border with Eritrea have protested against the peace deal.
Most significantly, the Tigrayan People's Liberation Front, a party in Ethiopia's ruling coalition that has been the dominant force in government for most of the past 27 years, said the announcement on the peace deal had been made before the ruling coalition's congress met to discuss it.
Ethiopia's government, which came to power 27 years ago after more than a decade of civil war, is split by factional battles between four ethnically-based parties as well as fierce competition between institutions and individuals.
Tigrayans make up about 6% of the population but are generally considered to dominate politics and business.
Abiy is the first leader from Ethiopia's largest ethnic community, the Oromo, which has complained for decades of economic, cultural and political marginalisation.
Some have hailed him as Ethiopia's Mikhail Gorbachev, a reference to the leader who attempted to bring rapid change to the ailing Soviet Union in the late 1980s.
"The grenade attack in Addis may be well linked to hardliners who do not want to see dialogue and conciliation with Eritrea. However, it may also be in response to perceived Tigrayan marginalisation and/or dissent within the military. Either way, it shows that the reforms are not window dressing," said Ryan Cummings, a South Africa based security analyst.
The US embassy said violence has no place as Ethiopia pursues meaningful political and economic reforms.
Despite an International Monetary Fund forecast predicting that Ethiopia will be the fastest-growing economy in sub-Saharan Africa in 2018, few doubt the scale of the problems Abiy faces. But there is growing inequality, insufficient employment opportunities for a huge number of graduates and environmental damage.
Efforts to expand Addis Ababa, which resulted in the displacement of farmers from its surrounding area, sparked anti-government protests in 2014 that led to the imposition of a nine-month state of emergency last year.
About a million Ethiopians have been driven from their homes by a land and ethnicity-fuelled crisis that has gripped the nation for years and escalated in recent months.
Since taking office, Abiy has visited most regions of Ethiopia and has repeatedly called for unity between its ethnic groups.
He described the grenade attack as "an unsuccessful attempt by forces who do not want to see Ethiopia united".