he first high-level Eritrean delegation to visit Ethiopia in decades has arrived for a meeting which could ease military tension.
Eritrea won independence from Ethiopia in 1993 after a 30-year conflict – but a border war five years later killed tens of thousands.
Diplomatic ties have been cut between the two countries for almost 20 years.
Last week, Ethiopia's prime minister said he would accept a peace deal awarding Eritrea disputed territory.
The deal, agreed by a border commission in 2002, had never formally been accepted by Ethiopia.
It is just one of a series of reforms Abiy Ahmed, who became prime minister after his predecessor resigned in February, has enacted since he took power.
The Eritrean delegation, led by Foreign Minister Osman Saleh, was welcomed by Mr Abiy in the capital Addis Ababa, where a red carpet was rolled out and the visitors were offered garlands of flowers.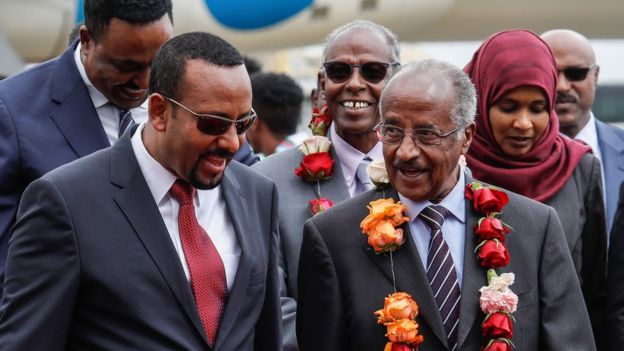 Ethiopian elders, religious figures and traditional dancers were all part of the welcoming committee.
In the streets of the capital, a poster showing both flags together with a message of welcome hung from buildings.
Writing on Twitter, Mr Ahmed's chief of staff said the prime minster "hopes the visit will lay the foundation for a much brighter future for Ethiopia [and] Eritrea".
"It is wonderful to see an Eritrean delegation in Ethiopia," one Eritrean man living in Kenya told the BBC.
"I can't explain my emotions. I am happy to be alive to witness the peace process resuming," Deacon Daniel Bahlbi said.
"Of course there are many problems in both countries and if this situation is solved amicably, all of us will benefit."