By LetsRun.com
July 23, 2014
For the past 11 years, the Ethiopian duo of Tirunesh Dibaba and Meseret Defar have dominated global distance running on the track, combining for 12 golds, 1 silver and 5 bronzes at the Olympics/World Championships since 2003.
Alemitu Heroye and Alemitu Hawi have a long way to go to achieve that sort of status, but their dominance in going 1-2 in Wednesday night's women's 5,000 final at the 2014 World Junior Championships in Eugene, Ore., immediately brought to mind Dibaba and Defar. Heroye and Hawi broke away halfway through the race and would run together until 25 meters to go, when Heroye finally gained a gap on Hawi and pulled away to win in 15:10.08. Hawi took silver in 15:10.46, while Kenya's Agnes Jebet Tirop — who was almost half a lap behind the leaders by the end — took the bronze in 15:43.12.
The Race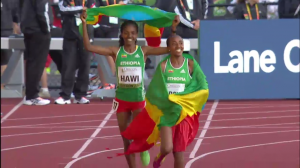 The race began in a similar fashion to last night's men's 10,000 final as two athletes from Japan, Maki Izumidaand Fuyuka Kimura raced to the front and quickly gained a gap on the field. Perhaps they had seen last night's race or perhaps they knew that they could not let a gap form in the shorter 5,000 distance, but the Japanese runners' lead would not last long as a pack of five, led by Heroye, reeled them in by 1200 meters.
Heroye, who took bronze in the junior race at World XC last year and ran 8:45.93 in the Doha Diamond League meet in May, came in as only one of two women with a sub-15:00 PR (14:52) and felt comfortable pushing the pace in the middle stages after a modest 5:01 first 1600. But when Heroye made her move, dropping a 67.20 seventh lap, only one woman went with her, and it was not Tirop, the bronze medalist from 2012, the silver medalist in the junior race at World XC last year and the fastest woman in the field by PR (14:50). Instead, it was Heroye's countrywoman Hawi, who took 10th in the junior race at World XC last year at age 16 (she is currently 17).
Those two passed 3200 in 9:46, their 4:45 second 1600 too hot for anyone else to match. Tirop was in third, about 50-60 meters behind, with another 40 or so behind her to the next group of Uganda's Stella Chesang and Kenya's Loice Chemnung. Those gaps would only increas over the remainder of the race. Bronze was obviously heading to Tirop for the second straight time; the only question was, 'Which Ethiopian would take gold and which silver?'
Heroye and Hawi seemed comfortable at a controlled, honest pace, trading leads and talking to each other during a 4:52 third 1600. They were still together at the bell; Heroye led, but could not get a gap on her teammate. Hawi remained a step or two behind for the first 300 meters of the last lap before pulling even at the top of the home stretch. The two would run stride-for-stride for 75 meters until Hawi finally broke, giving Heroye the small gap she needed to claim victory with a last lap of 67.12 seconds. It will be Heroye's name on the gold medal, but the real winner in this one was clear: Ethiopia.
Results on the right. Quick takes below.
POS
BIB
ATHLETE
COUNTRY
MARK
1
571
Alemitu 

HEROYE

ETH
15:10.08
2
572
Alemitu 

HAWI

ETH
15:10.46
PB
3
993
Agnes Jebet 

TIROP

KEN
15:43.12
4
1495
Stella 

CHESANG

UGA
15:53.85
NJR
5
983
Loice 

CHEMNUNG

KEN
15:55.17
6
953
Maki 

IZUMIDA

JPN
15:55.26
7
184
Courtney 

POWELL

AUS
15:56.00
PB
8
957
Fuyuka 

KIMURA

JPN
15:59.72
9
347
Jillian 

FORSEY

CAN
16:02.55
PB
10
994
Darya 

MASLOVA

KGZ
16:07.58
NJR
11
188
Kate 

SPENCER

AUS
16:18.18
12
1619
Maggie 

SCHMAEDICK

USA
16:19.01
13
352
Heather 

PETRICK

CAN
16:26.04
1488
Emine Hatun 

TUNA

TUR
DNF
1400
Sarah 

LAHTI

SWE
DNF
Quick Take #1: This was as dominant a performance as you'll see from a country in a World Championship final.
Yes, it's a junior race, but the 33-second gap between second and third is still massive for a race of this caliber. Putting that much ground on a 14:50 runner is incredibly impressive, even if Tirop quite obviously wasn't at her best tonight.
Heroye was one of the favorites coming in, but Hawi was an unknown quantity at 5,000 (she ran mostly the 1,500 last year with a PR of 4:13 in Heusden in July 2013).
She and Hawi wanted more than just victory, however. They also wanted Genzebe Dibaba's meet record of 15:08.06, set in 2010.

"On the last three laps, we knew the gold was going to be ours. We were running to break a record," said Hawi to Chris Lotsbom after the race.
Quick Take #2: Ethiopia and Kenya own this event.
They've combined to win all of the medals on offer in the women's 5,000 in the last four championships. The last non-Ethiopian/Kenyan to medal was China's Xue Fei when World Juniors were in Beijing in 2006.
Quick Take #3: It's disappointing that the Ugandan women's junior record is so weak when the Ugandan men are so strong.
Uganda's Stella Chesang set a national junior record of 15:53 in this race but that was only good enough for fourth. Uganda has a strong history in the men's distances (Joshua Cheptegei won the 10,000 last night; Stephen Kiprotich is the reigning World/Olympic champ in the marathon) but their women lag well behind — no Ugandan women has ever broken 15:00 for 5,000 (14 Americans have done it). Women are not nearly as empowered in Uganda as in countries like Kenya or Ethiopia — Uganda ranked 110th out of 148 countries in the United Nations Development Program's Gender Inequality Index. It's disappointing because Uganda could be a fertile source of women's distance talent.
Also recall that back in March, 2007 World 5,000 bronze medallistMoses Kipsiro was dropped from the Ugandan team for the World Half Marathon Championships for confronting a national team coach that was sexually assaulting and harassing female members of Uganda's team at this year's African Cross Country Championships.